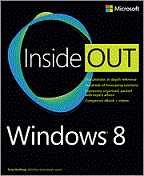 Windows 8 Inside OUT
Autor: Tony Northrup
Broj strana: 752
ISBN broj: 9780735663817
Izdavač: WILEY


Godina izdanja: 2012.
Topics include:
Installing and personalizing Windows 8
Mastering the new UI and features
Using pen, touch, and voice input
Implementing security essentials
Managing files, disks, and drives
Sharing and synching digital media
Setting up and troubleshooting a home or mobile network
Monitoring and tuning performance
Chapter 1

What's New in Windows 8

Interacting with Windows 8
Windows 8 user interface
Hardware
Security
Networking
Storage
Manageability, productivity, and troubleshooting
What's missing

Chapter 2

Using Windows 8 Apps

Common features
Using apps
How Windows 8 apps work
Changing app file associations
Built-in apps

Chapter 3

Buying and Installing Windows 8

Buying Windows 8
Installing Windows 8
Dual-booting Windows 8

Chapter 4

Upgrading and Migrating to Windows 8

Preparing for an upgrade
Upgrading from Windows XP or Windows Vista to Windows 8
Performing the upgrade to Windows 8
Migrating from an old PC to a new PC
Post-upgrade tasks
Uninstalling Windows 8

Chapter 5

Personalizing Windows 8

The Start screen
Tiles
Notifications
Lock screen
Desktop
Searching
Power settings
Multiple monitors
Language settings
WinX menu

Chapter 6

Adding, Removing, and Managing Apps

Installing Windows 8 apps
Uninstalling Windows 8 apps
Setting default programs
Configuring AutoPlay
Managing startup apps
Recording app problems
Understanding app permissions
The .NET Framework
The parts of a Windows 8 app
App compatibility settings
Managing Windows 8 app packages
Monitoring app events

Chapter 7

Using Windows 8 Accessibility Features

Choosing accessible hardware
Configuring accessibility options
Visual accessibility
User input accessibility
Dyslexia and reading accessibility

Chapter 8

Obtaining Help and Support

Obtaining professional support
Help and support
Determining who to contact for support
Searching the Internet
Asking for help
Connecting with Remote Assistance
Recording problems

File Management

Chapter 9

Organizing and Protecting Files

The Windows 8 way of organizing files
File system concepts
Working with libraries
Zipping folders
Protecting files
Advanced searching
Freeing up disk space
File organization tips

Chapter 10

Backing Up and Restoring Files

Backup concepts
Connecting a backup disk
Backing up and recovering files
Backing up and recovering apps and settings
Using cloud services
Online backup services
What if disaster strikes and you don't have a backup?

Chapter 11

Managing Windows Search

App search concepts
Managing searchable apps
Managing search suggestions
Managing file indexing

Chapter 12

Managing Storage

Storage Spaces
BitLocker
Fixing errors
Choosing a new drive

Chapter 13

Using SkyDrive

SkyDrive overview
Using the SkyDrive app for Windows 8
Accessing SkyDrive from mobile devices
Accessing SkyDrive from a browser
Using the SkyDrive desktop app
Editing documents simultaneously with other users

Music, Videos, TV, and Movies

Chapter 14

Music and Videos

Using the Music app
Ripping CDs
Editing metadata
Watching videos
Purchasing TV and movies
Editing videos

Chapter 15

Photos

Viewing pictures with the Photos app
Importing photos
Printing photos
Working with RAW files
Selecting and sharing photos
Working with photos on the desktop
Organizing photos

Chapter 16

Sharing and Streaming Digital Media

Xbox Music
Streaming to the Xbox
Stereos and TVs
Smartphone
Car
Other computers
Music services
Video-streaming services
Creating media

Chapter 17

Creating a Home Theater PC

HTPC software
Media Center
Configuring HTPC software to start automatically
Choosing the hardware
Recording TV
Choosing a remote control

Security and Privacy

Chapter 18

Managing Users and Family Safety

Logon security
Configuring sign-on options
Password best practices
Managing accounts
Family Safety

Chapter 19

Windows, Application, and Network Security

Malware protection
Protecting your privacy
Removing malware
Windows Firewall
Wireless security
Turning off security features

Chapter 20

Using Hyper-V

Hyper-V requirements
Installing Hyper-V
Creating your first virtual switch
Configuring VM settings
Starting a VM
Using snapshots
Managing virtual disks
Hyper-V tips and tricks
When not to use a VM
Using VirtualBox

Networking

Chapter 21

Setting Up a Home Or Small Office Network

Network technology overview
Choosing an ISP
Connecting Windows 8 to your network
Manually configuring Windows 8 networking
Fine-tuning wireless settings
Routers
Choosing home networking technologies
Designing a wireless network
Web applications

Chapter 22

Setting Up ad hoc, Bluetooth, and Mobile Networks

Ad hoc networking
Bluetooth
3G/4G mobile broadband

Chapter 23

Troubleshooting Your Network

Troubleshooting tools
The home network troubleshooting process
Troubleshooting network performance problems

Chapter 24

Sharing and Managing Files and Printers

Using a homegroup
Using folder sharing
Granting permissions to files
Using shared printers

Maintaining, Tuning, and Troubleshooting

Chapter 25

Maintaining Your PC

Updates
Backups
Uninstalling apps
Disk integrity
Disk space
Maintaining your batteries

Chapter 26

Monitoring, Measuring, and Tuning Performance

Benchmarking your computer
Finding and controlling a troublesome app
Setting priority and affinity when starting an app
Speeding up startup
Using Task Manager
Using Performance Monitor

Chapter 27

Troubleshooting Startup Problems, Crashes, and Corruption

Troubleshooting startup problems
Troubleshooting corruption and intermittent failures
Refreshing your PC
Resetting your PC
Appendix

Index to troubleshooting topics
Budite prvi koji će ostaviti komentar.
Ostavite komentar

Preporučujemo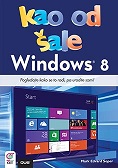 Windows 8 kao od šale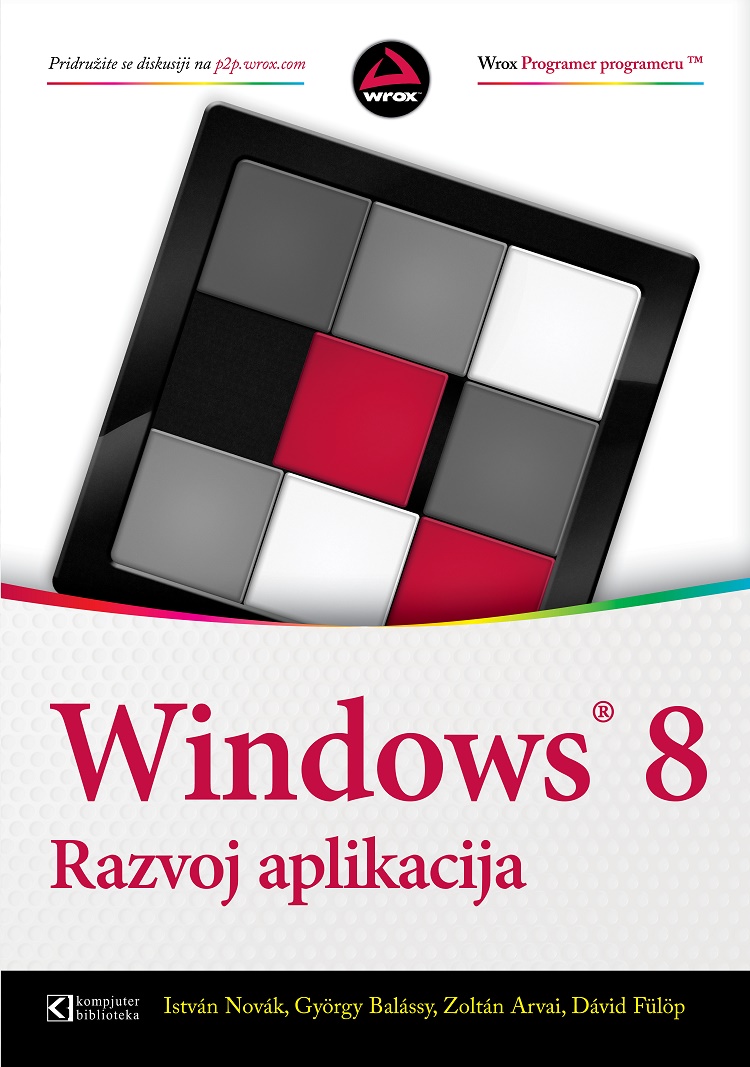 Windows 8 razvoj aplikacija